Art Show Postponed
The Marshall House Art Show planned for this autumn is postponed until spring 2020.
Artists who have entered will be appropriately notified of the new date and their fees returned.
The Marshall House is closed for the season
We will reopen in the Spring.
To be notified of our 2020 events please contact us.
Periodicals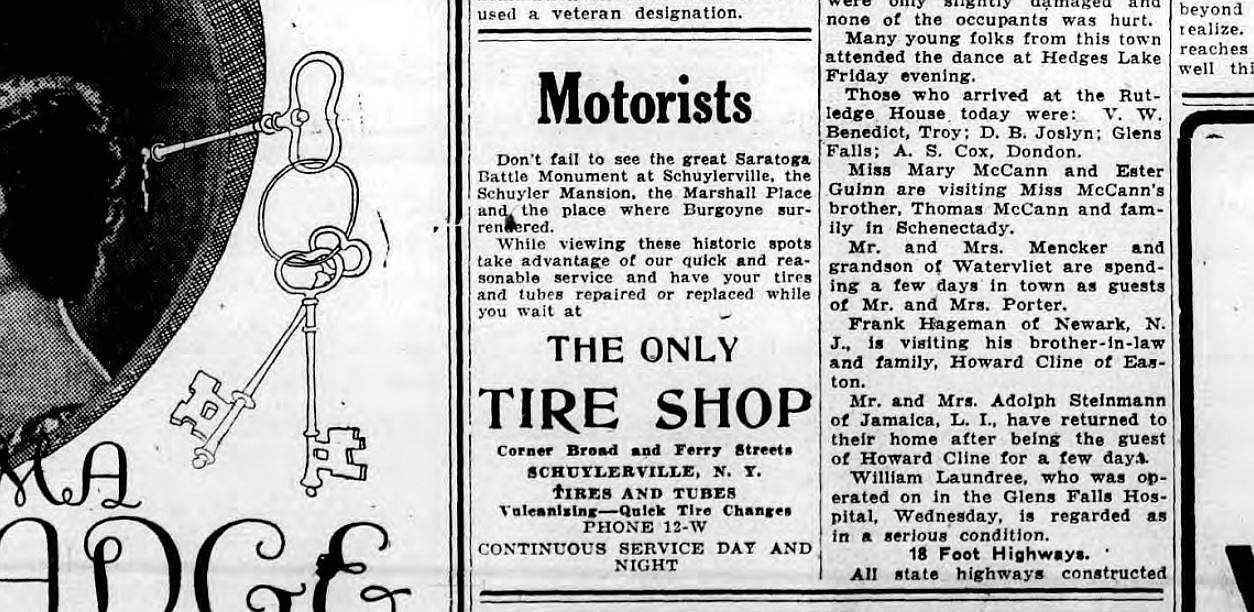 The Marshall House, proclaimed as one of the principal historic attractions in the Revolutionary Saratoga area, in an ad published in The Saratogian, August 16th, 1924
Here collected are books, newspaper stories and articles about The Marshall House: its history, its architecture, its thousands of visitors and those who have dwelt in it across a span approaching two hundred and fifty years. Those drawn hither by the courage, grace, generosity and beauty of the Baroness Frederika Louise Charlotte Riedesel will find this collection invaluable.
The first number of each reference indicates date of publication in Year-Month-Day order. References are in chronological order thereby forming an evolving story of not only historic events but also family life, attempts by public bodies to acquire the property and even a famous murder.
Each reference is identified either by title or brief summary of content or, in some instances, both. Publication date is in the American format, e.g. for the New York Times, "New York-NY-Times"-Month-Day-Year.
During the last half of the nineteenth century and the early years of the twentieth, the regional press teamed with reports of events and visitors; the business and hospitality; and, the appeal of The Marshall House to patriots. Too numerous to include all, those that reveal a significant social context are here presented.
18790828 - Attractions at Schuylerville-Saratoga Springs-NY-Saratogian-8-28-1879-63
18800903 - Stone and Bullard Visit TMH-Saratoga Springs-NY-Daily Saratogian-9-3-1880-34
18810221 - Burgoyne's Surrender-The Baroness von [sic] Riedesel and Her Children-New York-NY-Times-02-21-1881-139
18840910 - Ms. Pell of Brooklyn Makes Annual Visit Mrs. Jane Marshall-Schuylerville-NY-Standard-9-10-1884-96
18850701 - Mr. and Mrs. Baston, Miss Adah Balston, and Mrs. S E Dougherty and three daughters of Brooklyn Arrived at TMH for the Summer-Schuylerville-NY-Standard-7-1-1885-97
18850708 - Misses Dougherty and W. E. Ferne from Brooklyn are Spending Fourth with Friend at TMH-Schuylerville-NY-Standard-7-8-1885-98
18850715 - Dr. Vreland of Brooklyn with Friends and Harry Balston of Brooklyn Visited his Parents and Sister at Mrs. Marshall's-Schuylerville-NY-Standard-7-15-1885-99
18860728 - Two Visits to TMH-Schuylerville-NY-Standard-28-7-1886-27
18920720 - Several Visitors Including Vacationers to TMH-Schuylerville-NY-Standard-7-20-1892-28
18920804 - TMH-Full Summer Guest-Saratoga Springs-NY-Daily Saratogian-8-4-1892-62
18930712 - Lightning struck TMH-Damages-Schuylerville-NT-Standard-7-12-1893-21
18930719 - "The Marshall house is at present crowded with summer boarders"-Schuylerville-NY-Standard-7-19-1893-100
18940211 - Visits to TMH-Three Granddaughters of J. Marshall-Schuylerville-NY-Standard-2-11-1894-14
18981019 - Daughters of the American Revolution-Visit to TMH-Schuylerville-NY-Standard-10-19-1898-22
18990802 - "Longevity of the Bullard Family": "In 1822 the family lived one year in the Marshall house north of the village [...]." -Schuylerville-NY-Standard-8-2-1899-19
19000421 - "To Rent, furnished, for the summer, 'Marshall Place' at Schuylerville; house situated on a hill overlooking the Hudson; grounds large and shady; electric cars pass every half hour; terms reasonable. Address Mrs. Marshall, Schuylerville, 1t"-Troy-NY-Daily Times-4-21-1900-137
19010731 - Fire in TMH-Building New House-Schuylerville-NY-Standard-7-31-1901-20
19010911 - Visits to TMH - Schuylerville-NY-Standard-9-11-1901-8
19020820 - Visits to TMH - Schuylerville-NY-Standard-8-20-1902-9
19030709 - New Directory for Schuylerville-Illustrated with Half Tone Reproductions Battle Monument-Schuyler Mansion-TMH-Schuylerville-NY-Standard-7-9-1903-101
19030716 - "Birthday [81th] of Mrs. [William] Marshall"-"A Notable Anniversary"-"She has shared her home with the homeless, and the 'Marshall Place' has long been known for its boundless hospitality."-Schuylerville-NY-Standard-7-16-1903-113
19040126 - John Marshall's wife-Thanksgiving Reunion Old Saratoga Family at TMH-Saratoga Springs-NY-Daily Saratogian-26-11-1904-46
19050519 - Louise Smith of Albany with her aunt Jane Marshall at TMH-Saratoga Springs-NY-Daily Saratogian-5-19-1905-32
19051030 - Professor Chaumartin of Albany Visits his Wife at TMH-Saratoga Springs-NY-Daily Saratogian-10-30-1905-47
19051120 - Ralph Sample, employed of General Electric, visits his mother at TMH-Saratoga Springs-NY- Daily Saratogian-11-20-1905-33
19060208 - Historical Mistakes about TMH: Dutch Hospital during the Revolutionary War and the Baroness Riedesel as the Wife of British Officer-Johnston-Fulton County-NY-Republican-2-8-1906-40
19060215 - "War Memories Cluster about this Vicinity"-Saratoga Springs-NY-Daily Saratogian-2-15-1906-48
19060619 - Ralph Sample of Schenectady Visits his Mother Mrs. William Sample at TMH-Saratoga Springs-NY-Daily Saratogian-6-19-1906-49
19061029 - Ladies Card Club at Mrs. William Sample's-TMH- Saratoga Springs-NY-Daily Saratogian-10-29-1906-50
19070211 - Ralph Sample of Schenectady Enjoyed Sunday with his Mother Mrs. William Sample-TMH-Saratoga Springs-NY-Daily Saratogian-2-11-1907-54
19070211 - Ralph Sample Visits his Mother Mrs. William Sample-Saratoga Springs-NY-Saratogian-2-11-1907-51
19070228 - Albert Thomas, Lenita Sample and Ralph Sample confined to TMH suffering attack of grip-Saratoga Springs-NY-Daily Saratogian-2-28-1907-52
19070425 - Installation Water Works in TMH-Saratoga Springs-NY-Daily Saratogian-4-25-1907-53
19070607 - Alonzo Eddy, Assistant for Mrs. William W. Sample-TMH-Saratoga Springs-NY-Daily Saratogian-6-7-1907-53bis
19070917 - Professor Chaumartin of Albany Visits TMH-Saratoga Springs-NY-Daily Saratogian-9-17-1907-55
19070924 - Ralph Sample of Schenectady Spends some Days with Mother Mrs. William Sample-Saratoga Springs-NY-Daily Saratogian-9-24-1907-56
19071112 - Ralph Sample of Schenectady Returns after Days with his Mother Mrs. William Sample-Saratoga Springs-NY-Daily Saratogian-11-12-1907-57
19080203 - Jane Marshall Is Seriously Ill-Slight Hopes Recovery-Saratoga Springs-NY-Daily Saratogian-2-3-1908-58
19080204 - Ralph Sample of Schenectady Spends some Days with Mother Mrs. William Sample-Saratoga Springs-NY-Daily Saratogian-2-4-1908-59
19080212 - Jane Marshall is Rapidly Convalescing- Saratoga Springs-NY-Daily Saratogian-2-12-1908-60
19090129 - Contracting Company Erects Building Near TMH-Quarters Day Laborers-Troy-NY-Daily Times-Semi-Weekly Times-1-29-1909-103
19090519 - "Wedded Amid The Bloom Of May Apple Blossoms"-Lenita Sample and Thomas Case Lynch Wedding-TMH-Saratoga Springs-NY-Saratogian-5-19-1909-129
19091025 - Ralph Sample of Schenectady-Over Sunday with Mother Mrs. Jennie Sample-TMH-Saratoga Springs-NY-Daily Saratogian-10-25-1909-61
19100502 - Mrs. Jane Marshall Dead-Saratoga Springs-NY-Saratogian-5-2-1910-136
19100505 - Thomas Marshall, of Ossining, visited relatives at TMH-Saratoga Springs-NY-Saratogian-5-5-1910-128
19110310 - Letter to Ask for State Control of TMH and Schuyler House-North White Creek-NY-Washington County Post-3-10-1911-42
19120921 - Historians are the Guest of Schuylerville-NY State Historical Association Annual Meeting in Schuylerville-Saratoga Springs-NY-The Saratogian-9-21-1912-24
19140604 - Resident at TMH A. R. Carpenter died in Washington D.C.-Saratoga Springs-NY-Saratogian-6-4-1914-135
19150427 - "Chicken thieves broke into the poultry house of Elmer Walker at the Marshall Place, north of this village, last night and made off with a number of valuable chickens as well as a quantity of cracked corn"-TMH-Saratoga Springs-NY-Saratogian-4-27-1915-134
19160630 - B. K. Bullard-Boy Scouts Meeting-TMH-Saratoga Springs-NY-Saratogian-6-30-1916-119
19160724 - Crime-Woman and Lover Kill Husband Fire Barn-TMH-Saratoga Springs-NY-Saratogian-7-24-1916-64-2
19160724 - Crime-Woman and Lover Kill Husband Fire Barn-TMH-Saratoga Springs-NY-Saratogian-7-24-1916-64-1
19160727 - Crime-"Schuylerville Scene of Sensational Murder Case"-TMH-Stillwater-NY-Hudson Valley Times-7-27-1916-102
19161031 - Crime-"Alleged Confession Placed in Evidence in Murder Trial"-Several references to TMH-Saratoga Springs-NY-Saratogian-10-31-1916-117-1
19161031 - Crime-"Alleged Confession Placed in Evidence in Murder Trial"-Several references to TMH-Saratoga Springs-NY-Saratogian-10-31-1916-117-2
19161101 - Crime-"Bain Sought License To Carry Revolver But Was Refused"-Jennie Walker: "Bain had attempted to enter a small house adjoining the main building of the Marshall Place"-Several references to TMH-Saratoga Springs-NY-Saratogian-11-1-1916-126-1
19161101 - Crime-"Bain Sought License To Carry Revolver But Was Refused"-Jennie Walker: "Bain had attempted to enter a small house adjoining the main building of the Marshall Place"-Several references to TMH-Saratoga Springs-NY-Saratogian-11-1-1916-126-2
19161102 - Crime-"Parker Describes Murder, Feared Bain, He Testifies"-Several references to TMH-Saratoga Springs-NY-Saratogian-11-2-1916-115-1
19161102 - Crime-"Parker Describes Murder, Feared Bain, He Testifies"-Several references to TMH-Saratoga Springs-NY-Saratogian-11-2-1916-115-2
19161103 - Crime-"Fate of Parker and Elizabeth Bain in Hands of Jury"-TMH-Saratoga Springs-NY-Saratogian-11-3-1916-122-1
19161103 - Crime-"Fate of Parker and Elizabeth Bain in Hands of Jury"-TMH-Saratoga Springs-NY-Saratogian-11-3-1916-122-2
19170420 - New Bridge across the Barge Canal in Front TMH-Saratoga Springs-NY-Saratogian-4-20-1917-133
19181130 - Auction Sale-"20 head of cattle, 2 horses, 3 wagons, several stoves, harness and other articles at the Marshall place"-Saratoga Springs-NY-Saratogian-11-30-1918-131
19200424 - Auction Sale-"Practically new farming tools, nine grade Guernaey cows, five fresh with calves; wagons, harness, etc."-TMH-Saratoga Springs-NY-Saratogian-4-24-1920-125
19210907 - Tennis-"The Community Chorus will resume its session Monday evening. The members of the organization are playing tennis on the Marshall Place courts."-TMH-Saratoga Springs-NY-Saratogian-9-7-1921-121
19210909 - A Walk Over Saratoga Battlefield-New York-NY-Evening Post-9-9-1921-41
19240625 - "Revolutionary Battlefields in Our Vicinity"-Ballston Spa-NY-Daily Journal-6-25-1924-35
19240816 - Ad-"Motorists-Don't fail to see the great Saratoga Battle Monument at Schuylerville, the Schuyler Mansion, the Marshall Place and the place where Burgoyne surrendered"-The Only Tire Shop-Schuylerville-Saratoga Springs-NY-Saratogian-8-16-1924-120
19240819 - Ad-"Motorists-Don't fail to see the great Saratoga Battle Monument at Schuylerville, the Schuyler Mansion, the Marshall Place and the place where Burgoyne surrendered"-The Only Tire Shop-Schuylerville-Saratoga Springs-NY-Saratogian-8-19-1924-116
19250921 - Daughters of the American Revolution in TMH-Saratoga Springs-NY-Saratogian-9-21-1925-65
19250927 - "A Relic of One of the Decisive Battles of TheWorld"-The Marshall House-New York-NY-Times-9-27-1925-15
19260208 - "A runway on Broad street Saturday morning was stopped by Elmer E. Walker of the Marshall Place before any damage was done"-Saratoga Springs-NY-Saratogian-2-8-1926-112
19260322 - Mrs. Daniel McCarty with Mr. and Mrs. Elmer Walker at TMH-Saratoga Springs-NY-Saratogian-3-22-1926-66
19270115 - "New Book Gives State's Part Revolution"-TMH-Saratoga Springs-NY-Saratogian-1-15-1927-67
19270523 - "Junior High Tour Famed Battle Site"-Saratoga Springs-NY-Saratogian-5-23-1927-68
19270831 - "Historical Society Seeks to Save Famed Marshall House"-Saratoga Springs-NY-The Saratogian 8-31-1927-1
19270901 - "William Wile Praises Effort Saratoga Historical Society Purchase Famous TMH"-Saratoga Springs-NY-Saratogian-9-1-1927-69
19270922 - "Historic Marshall House Still Standing in the Saratoga Battlefield Area"-The Kingston-NY-Daily Freeman-9-22-1927-7
19270924 - "Saratoga Will Buy Historic Marshall House"-Binghamton-NY-Press-9-24-1927-2
19270926 - "Saratoga Historical Society to Preserve Marshall House"-Rome-NY-Daily Sentinel-26-9-1927-3
19270927 - "Society Will Buy Marshall House"-Kinston-NY-Daily Freeman-9-29-1927-26
19271005 - "Saratoga Historical Society May Purchase Revolutionary Refuge-Famous Marshall House Will Be Preserve If Plans Are Carried Out"-Schenectady-NY-Gazette-10-5-1927-95
19271009 - "To Buy Historic House-Society Seeks Marshall Place, Refuge of Hessian Family"-New York-NY-Times-10-09-1927-138
19280330 - "Abra[ha]m Marshall, grandfather of Frank Bean Jr. Lives on the place he afterward bought of James McCreedy in 1848"-"History of Bacon Hill"-Saratoga Springs-NY-Saratogian-3-30-1928-124
19280809 - "Many Tourists Visit Community"-Saratoga Springs-NY-The Saratogian-8-9-1928-4
19290801 - Governor of New York, Fanklin D. Roosevelt, Visits The Marshall House -TMH-Saratoga Springs-NY-Saratogian-08-01-1929-118
19290508 - B. K. Bullard-Lions Club-Boys Scouts-TMH-Two stories-Saratoga Springs-NY-Saratogian-5-8-1929-70
19291016 - "Riding with a Purpose"-Schuylerville-TMH-Two stories-Glens Falls-NY-Post Star-10-16-1929-38
19300220 - Report: 16 Chickens Stolen-TMH-Saratoga Springs-NY-Saratogian-2-20-1930-127
19300331 - Visit Ralph Sample his Mother Mrs. Elmer E. Walker at TMH-Saratoga Springs-NY-The Saratogian-3-31-1930-30
19300707 - "Chamber Commerce Moves to Include TMH into Saratoga Battlefield Park"-Ballston Span-NY-Daily Journal-7-7-1930-36
19300715 - Article on Chamber of Commerce Work for Historic Places-Saratoga Springs-NY-The Saratogian-7-15-1930-11
19301030 - Daughters of the American Revolution Interested in Purchase of TMH-Saratoga Springs-NY-Saratogian-Saratoga Springs-NY-Saratogian-10-30-1930-71-1
19301030 - Dr. T. E. Bullard and Mrs. Bullard Attend Dinner Saratoga County League of Women Voters-Mrs Bullard is a Member-Saratoga Springs-NY-Saratogian-Saratoga Springs-NY-Saratogian-10-30-1930-71-3
19301030 - "Kenneth Bullard Buys Historical Marshall House"-Saratoga Springs-NY-Saratogian-Saratoga Springs-NY-Saratogian-10-30-1930-71-2
19301104 - T. K. Bullard Purchases TMH from Mr. and Mrs. Elmer E. Walker-"The mecca for tourists interested in the Revolutionary history of Saratoga"-Troy-NY-Times-11-4-1930-104
19301106 - Kenneth Bullard Purchases TMH-Thousands of tourists-Salem-NY-Salem Press-11-6-1930-43
19301106 - T. Kenneth Bullard Purchases TMH-Salem-NY-Press-11-6-1930-130
19310226 - "Esmond Bill Provides for Temporary Advisory Committee on Battlefields"-TMH-Schuyler House-Stark's Knob-Troy-NY-Times-2-26-1931-105
19310304 - Assemblyman Asks Purchase TMH by State-Seeks 300,000 for Saratoga and Other Battlefield Lands-TMH-Ballston Spa-NY-Daily Journal-3-4-1931-37
19310304 - Assemblyman Introduces Bill Appropriating 300,000 for Buying Historic land-TMH-Glens Falls-NY-Post Star-3-4-1931-39
19310304 - Creation Advisory Board-Purchase Schuyler House-TMH-300000 Bill by Esmond to Acquire Battlefield Sites-Saratoga Springs-NY-Saratogian-3-4-1931-74
19310418 - Saratoga Battlefield Gives Up Many Relics Revolutionary Days- Saratoga Springs-NY-Saratogian-4-18-1931-75
19310916 - T. K. Bullard Addresses Rotary-Saratoga Springs-NY-Saratogian-9-16-1931-76
19310930 - "Lions Dedicate Historic Spot"-"Schuylerville Club Unveils Marker of Revolution"-Yonkers-NY-Statesman-9-30-1931-110
19320107 - Fire at TMH-Saratoga Springs-NY-Saratogian-1-7-1932-78
19320831 - "To Seek Relief Committee Aid in Bridge Painting"-"The town historian, T. J. Hanrehan, has been authorized by the town board to place two cannons in Schuylerville at the Marshall place, which are the property of the town of Saratoga"-Saratoga Springs-NY-Saratogian-8-31-1932-111
19321027 - Closing Session Mohawk Valley Federation Woman's Relief Corps - Saratoga Springs-NY-The Saratogian-10-27-1932-12
19321227 - Mr. and Mrs. T. K. Bullard-Dinner Christmas Evening-Decoration Transformed House into Colonial Home-Saratoga Springs-NY-Saratogian-12-27-1932-77
19370727 - Mrs. T. Kenneth Bullard Historical Association Hostess-TMH Remodeling-New Battlefield Marks-Saratoga Springs-NY-Saratogian 7-27-1937-81
19370831 - Helen E. Bullard-T. E. Bullard-Vacation in Europe- Saratoga Springs-NY-Saratogian-8-31-1937-80
19370831 - Melons Retailed in Front TMH-Bullard Orchards- Saratoga Springs-NY-Saratogian-8-31-1937-79
19371027 - Saratoga Historical Meeting at TMH-Dr. and Mrs. Thomas E. Bullard-Dr. Bullard recounted some interesting impressions of his trip abroad, drawing an excellent word picture of conditions in Germany under dictatorship-Talking with a German woman, he found her, like Americans, "unwilling to believe that good people, Christian people, cannot find some other way than by war to settle differences." He was generally impressed with the agreeable manner of the German people-Mrs. Charles Marshall, in the Meeting-Saratoga Springs-NY-Saratogian-10-27-1937-82
19380930 - "Burgoyne Visited at Gansevoort Residence"-Old Dutch Reformed Church Parsonage-"This knocker on the front door bears the inscription 'This knocker was on the Marshall House, Schuylerville (then Saratoga) when Gen. Burgoyne was a guest therein in 1777. It was later removed to the house of James Burton'"-Troy-NY-Times Record-9-30-1938-106
19390524 - Mr. Mrs. T. K. Bullard, Residents TMH-Mrs. Jessie Lowber Marshall and her Brohter George S. Lowber, Residents Schuyler Mansion-'American Home' June Issue Article on 'American Home Pilgrimages'-Saratoga Springs-NY-Saratogian-5-24-1939-83
19390527 - TMH and Schuyler House-'American Home' June Issue Article on 'American Home Pilgrimages'-Mrs. Charles A. Marshall-Saratoga Springs-NY-Saratogian-5-27-1939-84
19390805 - "Schuylerville, Battlefield Historic Point Featured in World's Fair Booklet"-"In the copy of the Adirondack Region, souvenir of the New York World's Fair, in the Adirondack division, under Saratoga County, is material on the Marshall House, Stark's Knob, Schuylerville, the Saratoga Battle Monument, Fort Hardy, and the Schuyler Mansion […]. In the murals at the Fair are included the Saratoga Battle Monument, the Marshall Place, the Schuyler Mansion, a view of the Hudson river and Schuylerville village, with two pictures of the Saratoga Battlefield"-Saratoga Springs-NY-Saratogian-8-5-1939-114
19410808 - "Baroness Riedesel Sheltered Here in 1777-Schuylerville of Central Importance in History of Saratoga County"- Saratoga Springs-NY-The Saratogian-8-8-1941-16
19420930 - "Two Cannons Given by Schuylerville to Aid Scrap Drive"-"One cannon was formerly on the lawn of the residence of Mr. and Mrs. T. K. Brillard [sic], the site of the old Marshall House, of Revolutionary fame"-Troy-NY-Times Record-09-30-1942-107
19421012 - Removal Old Coast Guard Guns-TMH-"Schuylerville Scrap Drive Hits 34 Tons"-Saratoga Springs-NY-Saratogian-10-12-1942-85
19480106 - City Town County Historians Prepare Data for Source Material-TMH-Saratoga Springs-NY-Saratogian-1-6-1948-86
19490503 - Historical Council Names Schuylerville Girl Official-Saratoga Springs-NY-The Saratogian-5-3-1949-13
19490523 - Schuylerville-Saratoga Name Changing-Pros and Cons-TMH-Saratoga Springs-NY-Saratogian-5-23-1949-87
19490531 - Tea at TMH-Grandma Moses-Presentation Mrs Kenneth Bullard's portrait by George Daniel Hoffman-"Celebrities View Hoffman Portrait of Mrs Bullard at Marshall Place Tea"-Saratoga Springs-NY-Saratogian-5-31-1949-132
19490620 - TMH-Bullard Orchards-Historical Publicity Group Opens Tours of Saratoga National Park and Schuylerville-Saratoga Springs-NY-Saratogian-6-20-1949-88
19490716 - "Drought Fails to Dim Beauty, Brillance of Saratoga Flower Show"-"Mrs. Kenneth Bullard of the Marshall Place, Schuylerville, won several prizes […]"-Saratoga Springs-NY-Saratogian-7-16-1949-123
19501111 - Schuylerville-Saratoga Name Changing-TMH-Saratoga Springs-NY-Saratogian-11-11-1950-89
19520819 - Points of Historic Interest for Visitors to Schuylerville-Saratoga Springs-NY-Saratogian-8-19-1952-90
19540303 - Bullard Tells Club of Travels in Africa-Saratoga Springs-NY-The Saratogian-3-3-1954-18
19540303 - Study Club Hears Address on Colonial, Modern Cellars- Saratoga Springs-NY-The Saratogian-3-3-1954-17
19541026 - Farm Expands by 1,490 Acres-Saratoga Springs-NY-The Saratogian-10-26-1954-25-bis
19541026 - "Schuylerville Owes its Fame to Battle"-Saratoga Springs-NY-The Saratogian-10-26-1954-25
19580917 - "Bushee House"-TMH-Abraham Marshall-4-H-Members Start Revolutionary Cemetery Improvement Project-Saratoga Springs-NY-Saratogian-9-17-1958-91
19600414 - Daughters of the American Revolution-TMH and Schuyler House Discussed by Historian-Saratoga Springs-NY-Saratogian-4-14-1960-92
19600624 - Schuylerville Class 1960 Yearbook Pics TMH-Saratoga Springs-NY-The Saratogian-6-24-1960-31
19670829 - Bullard Home on Tour List-House Provides Exotic Departure-Saratoga Springs-NY-The Saratogian-8-29-1967-6
19670907 - On House Tour-The Salem Press-Salem-NY-9-7-1967-5
19680420 - "Thomas C. Lynch [Former President of Carthage National Exchange Bank] Notes 90th Year"-"Daughter of William and Jennie Marshall Sample, and Mr. Lynch, were married May 18, 1909, at her home, the historic Marshall house, Schuylerville, which had been used by the British as a hospital in the Revolutionary war. The couple celebrated their 50th wedding anniversary in 1959"-Watertown-NY-Daily Times-4-20-1968-108
19680600 - TMH-History Made in this Area-Saratoga Springs-NY-Saratogian-Summer 68-93
19711118 - "Thomas Lynch, Sr., Former Bank Head, Expires, Aged 93"-"Surviving are his widow, Mrs. M. Lenita Lynch, two sons, W. Marshall Lynch and Thomas C. Lynch, Jr. both of Carthage […]. On May 19, 1908, he married M. Lenita Sample in Schuylerville at the home of the bride, which was the historic Marshall house […]"-Watertown-NY-Daily Times-11-18-1971-109
19780511 - Obituary Mrs. T. Kenneth Bullard-Greenwich-NY-Journal-5-11-1978-29
19841011 - Debbie Baley performs Baroness Riedesel-Surrender Day events-Greenwich-NY-Journal-10-11-1984-44
19871119 - Obituaries-Helen E. Bullard - Greenwich-NY-Journal-11-19-1987-10
19911010 - Apples and Arts festival-The Bullard Orchards Farm Market-Greenwich-NY-Journal-10-10-1991-23
19980101 - TMH Touristic Tour - Salem-NY-Salem Press-1-1-1998-45
20170803 - Blood Stains - Greenwich Journal and Press - Greenwich NY
20170803 - Effort underway to preserve Marshall House in Schuylerville - Saratogian-Saratoga Springs NY
20170804 - A witness of Revolution survives - Times Union-Albany NY
20170804 - Marshall House - FreePress
20170805 - Family reunion at Schuylerville home damaged during Revolutionary War - Associated Press
20170807 - History Faces Future - Post Star-Glens Falls NY
20170807 - Plans to preserve historic Schuylerville home move forward - Saratogian-Saratoga Spring NY
20170810 - A Revolutionary War Parade and Family Reunion - Saratoga Today-Saratoga Springs NY
20170810 - Another Step Towards Preserving the Marshall House - Journal & Press-Greenwich NY
20171130 - Revolutionary War history came to life at Marshall House in Schuylerville - Chronicle-Glens Falls NY