Thomas David Bullard 1930 - 2023
The Board of The Marshall House, Inc. expresses profound regret at the loss of David Bullard, friend and mentor.
David Bullard died February 19, 2023 at his home The Marshall House.
David's inspiration led to renewed action and remembrance of the events of America's War of Independence. Many visitors to the house were fortunate to learn from him stories of 250 years of history.
The Marshall family and The Marshall House, Inc. will continue to tell of the important events that occurred in old Saratoga during the Revolutionary War and in the times that followed.
Visitors to this website are invited to view the video narrative about David Bullard and his house. This video was completed a short time ago.
The second symposium Women in War was held in May 2023. We are grateful to Historians of Saratoga Town and County, and County governance for embracing this heritage.
Opportunities to visit the house will be posted on this website.
Please note the mailing address will now be P.O. Box 114, Schuylerville, NY 12871.
Legends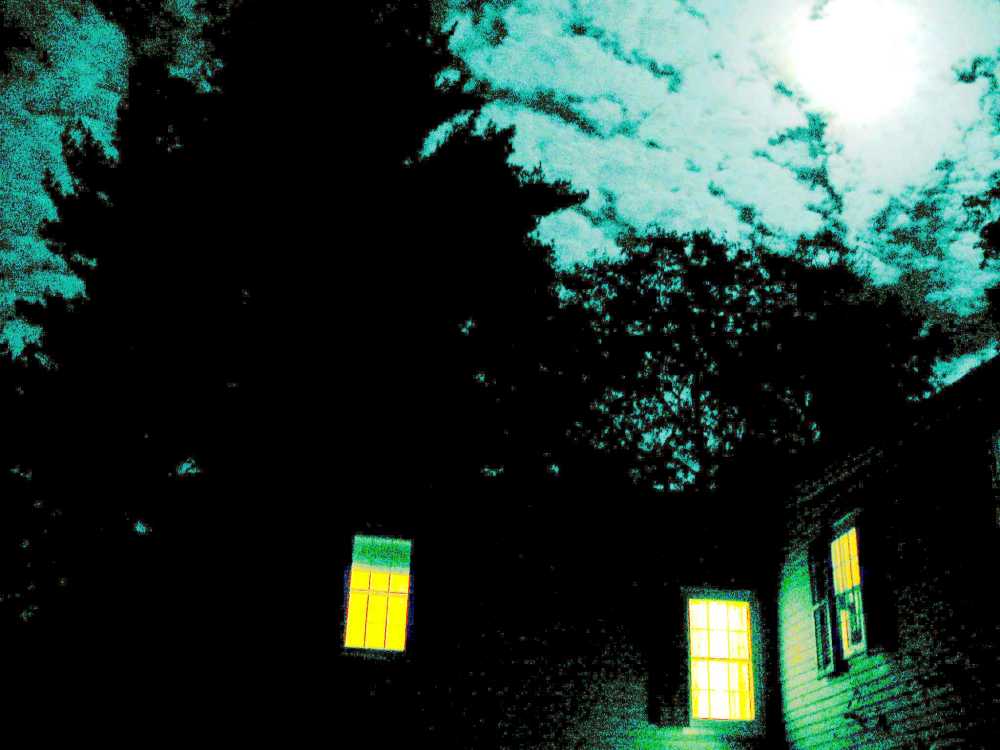 Night view of the northwest ell of The Marshall House
"Are there ghosts"? is a question often asked. After all, with deaths, crashing cannonballs, burials by moonlight and the comings and goings of its many inhabitants are there no inexplicable tales?
Some years back the house was rented to a young couple from New York City who intended to enjoy the racing season at Saratoga Springs, a dozen miles hence. Three or four days following their arrival the husband suddenly declared that they had to leave, reluctantly, because his wife had been vexed each night by a phantom.
More recently a young man, now a Hollywood script writer, who passed several days here said that he had been awakened by a ghost floating to and from in his bedroom. But of remarkable accounts of other supernatural events none exceed that experienced by sometime owner, Kenneth Bullard.
One noontime he returned from the farm for mid-day meal in an uncharacteristic solemn mood, odd for a practical man of constant good humor. After prodding he said that that morning while walking in the orchard some hundred rods from the house he spied an old fellow seated on the grass beneath an old Northern Spy apple tree. As he approached, the man got up and greeted him saying, "Hello Ken. I am glad to see you."
They fell into conversation about the farm and family as they walked about together looking at the growing crop. Finally the old man examined his gold pocket watch and declared, "I must be going. I shall see you by and by." With that he walked down the row and vanished. That man was the present owner's grandfather who had been dead twenty years. Mr. Bullard, to his own dying day, never swerved from the truth of the story he had told.
Though their ghosts have not yet been seen, a woman and her lover employed here murdered the woman's jealous husband nearby in 1916. This was a notorious crime at the time. The Marshalls were deposed at the trial.
At least one spirit was actually alive. For many years a Volkswagen beetle driven by a man wearing a coat and tie, and sporting a Panama hat, used to drive up the hill and park. He always remained in his car but his wife climbed out and made for the back door. She was a frumpy little woman who always wore a shapeless faded print dress that fell below her knees. She wore rolled up stockings and sneakers. Her name was Mrs. Schneider.
She simply walked in, smiled at whoever was about and made for the parlor where she sat down and glanced about her. After ten minutes or so she arose, went upstairs and into the southeast bedroom where she seated herself on the edge of the bed or in a chair for a little while. Without uttering more than a word or two of greeting she walked back down and out through to the kitchen, outdoors and climbed into her husband's little car which then drove down the hill and away.
She appeared at queer times. Once she appeared when a dinner party was underway, again late afternoons, always, it seems, when the fancy took her. It turned out that Mrs. Schneider was a distant Marshall relative who many years ago came in summertime to pass a week or two with her aunts. She came to relive those happy days.
When the owner's children were naughty they promptly recovered their manners when threatened with a visit from Mrs. Schneider.
Click for full size pictures