Thomas David Bullard 1930 - 2023
The Board of The Marshall House, Inc. expresses profound regret at the loss of David Bullard, friend and mentor.
David Bullard died February 19, 2023 at his home The Marshall House.
David's inspiration led to renewed action and remembrance of the events of America's War of Independence. Many visitors to the house were fortunate to learn from him stories of 250 years of history.
The Marshall family and The Marshall House, Inc. will continue to tell of the important events that occurred in old Saratoga during the Revolutionary War and in the times that followed.
Visitors to this website are invited to view the video narrative about David Bullard and his house. This video was completed a short time ago.
The second symposium Women in War was held in May 2023. We are grateful to Historians of Saratoga Town and County, and County governance for embracing this heritage.
Opportunities to visit the house will be posted on this website.
Please note the mailing address will now be P.O. Box 114, Schuylerville, NY 12871.
The Apple Cottage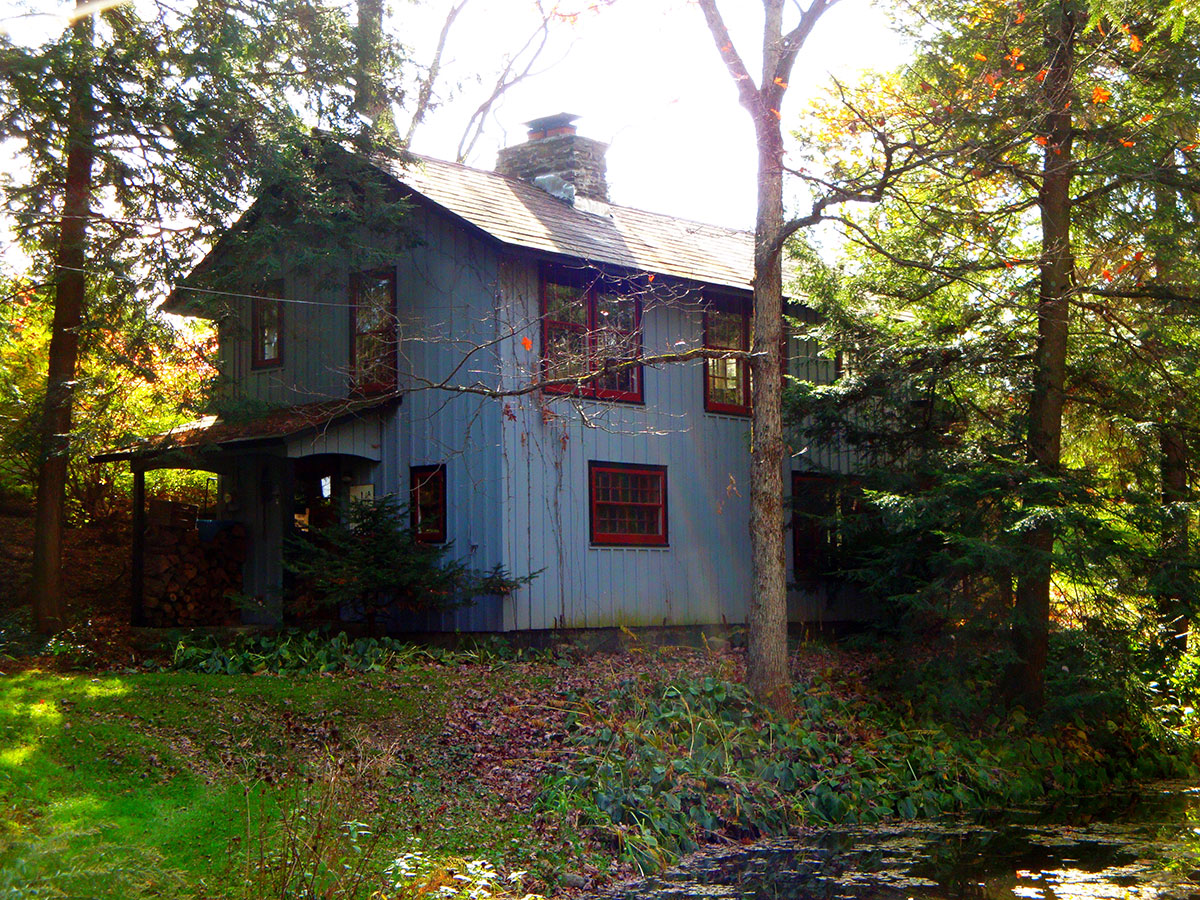 Apple Cottage from the pond
In 1957 a small two storey cottage was built beside a small brook, now dammed to create a pond in the woods, some thirty yards behind The Marshall House. This structure and its furnishings, some brought from the owner's homes in Kyoto and Tokyo, are inspired by Japanese domestic architecture.
Like its parent, The Marshall House, it is constructed of local materials. Within and without the walls are of pine, the ground floor is slate flagstone from a nearby quarry and the roof, too, is slate.
Interior features include a cryptomeria stair railing with mulberry balustrade and cherry false rafters from Japan supporting a sawali split bamboo mat ceiling from the Philippine Islands. The bedroom ceiling is covered with grass paper brought from Korea. On a sign beside its doorway "Apple Cottage" is written in both Japanese and English.
This winsome little house is used as an occasional residence, as a guest house and as a studio for the owner's wife, a well-known composer[1]. This secluded cottage with its pleasant associations is a lovely daughter of The Marshall House.


Click for full size pictures