Thomas David Bullard 1930 - 2023
The Board of The Marshall House, Inc. expresses profound regret at the loss of David Bullard, friend and mentor.
David Bullard died February 19, 2023 at his home The Marshall House.
David's inspiration led to renewed action and remembrance of the events of America's War of Independence. Many visitors to the house were fortunate to learn from him stories of 250 years of history.
The Marshall family and The Marshall House, Inc. will continue to tell of the important events that occurred in old Saratoga during the Revolutionary War and in the times that followed.
Visitors to this website are invited to view the video narrative about David Bullard and his house. This video was completed a short time ago.
The second symposium Women in War was held in May 2023. We are grateful to Historians of Saratoga Town and County, and County governance for embracing this heritage.
Opportunities to visit the house will be posted on this website.
Please note the mailing address will now be P.O. Box 114, Schuylerville, NY 12871.
The Abraham Marshall Family of Old Saratoga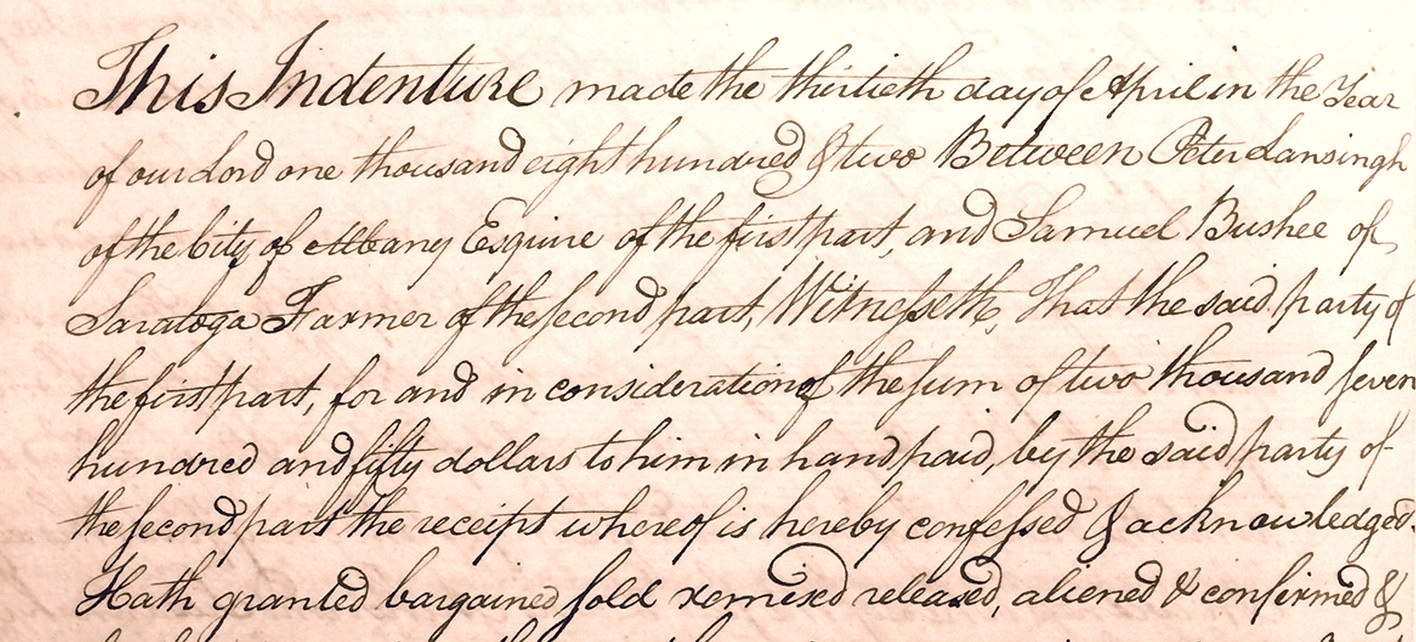 The 1802 deed from Peter Lansing to Samuel Bushee of the sale and purchase of the "farmhouse" today known as The Marshall House (Saratoga County Clerk's Office, Ballston Spa, NY)
Marshall, Abraham - 1732 -1811
Served in Col. John McCrea's 13th Albany Co. Regiment
Born: 04 Jan, 1732 in Rawdon, Yorkshire, England
Died: 30 Nov, 1811 in Old Saratoga, NY
Marriage: 25 Jul, 1757, Susannah Calvert (1734-1822)
Abraham Marshall, born 04 Jan 1732 in Rawdon, Yorkshire, England, married Susannah Calvert (b 16 Mar 1734) on 25 July 1757 in Leeds, Yorkshire, England. Although some histories state that he migrated to America around 1763/64, it appears that his son James was born in Leeds in 1768. Further investigation will be needed to verify his emigration.
The documented children of Abraham and Susannah Calvert Marshall are:
Nancy Marshall b. 1758 Leeds, Yorkshire, England
Mary Marshall b. 1761 Leeds, Yorkshire, England
Susanna Marshall b. Jan. 1764 Cookridge, Leeds, Yorkshire, England
James Marshall b. Mar 1768 Cookrdige, Leeds, Yorkshire, England
Samuel Marshall b. 1779 Old Saratoga, New York
Abraham Marshall, Patriot, served in Col. John McCrea's 13th Albany Co. Regiment during the American Revolution.
During the time of the Revolution, it is stated that his family had to leave their residence and "flee to the woods from fear of Indians" and that they "were among those who were driven from their homes by the approach of Burgoyne's army." It is stated that he was present at the Surrender of Burgoyne in October 1777.
In December 1783, Abraham Marshall leased farmland from Philip Schuyler in Old Saratoga located approximately one mile south of present-day Schuylerville.Abraham Marshall died in 30 November 1811 and is buried in the Marshall Family Cemetery alongside his wife, Susanna Calvert Marshall, who died 30 April 1822.
Nancy Marshall, (1758) the eldest daughter, married Patriot Thomas Jordan (1751) of Voluntown, CT. He is listed in the muster roll of the 1st Regiment New York at Valley Forge in 1778. He too was at the Surrender of Burgoyne in 1777.
In The Story of Old Saratoga by Brandow, it states that Nancy Marshall was "personally acquainted with General Schuyler and used to speak feelingly of the noble-heartedness of himself and lady in all the relations of life." Her husband, Thomas Jordan, cleared and owned farmland in the area upon his return.
There are no children or descendants of Thomas and Nancy Marshall Jordan documented. Both are buried in the Marshall Cemetery.
Mary Marshall (1761) married Patriot Samuel Bushee (1754). He enlisted in 1777 in the 1st Continental Rhode Island. (He may have been born in either Southeastern Massachusetts or Rhode Island. Further genealogic research is needed). It is stated in The Story of Old Saratoga that both Thomas Jordan and Samuel Bushee wintered at Valley Forge 1777-1778. However, documentation is still needed for Samuel Bushee.
In 1785, Samuel Bushee purchased the farmhouse of Mr. Peter Lansing – today known as The Marshall House. With the purchase of the farmhouse, The Marshall House begins its first occupation by Marshall family members.
Samuel Bushee and Mary Marshall Bushee had a daughter Mary Bushee (1782) and adopted a daughter, Anna Benjamin Bushee, after her mother died in childbirth. Anna Benjamin was the biological daughter of Patriot William Benjamin and Abigail Fitch (d. 1786).
Interestingly, Mary Marshall Bushee's young brother, Samuel Marshall marries Phoebe Benjamin (Anna Benjamin's older sister in 1798). Mary Marshall Bushee died 5 Jun 1846 and is buried in the Marshall Family cemetery, alongside her husband, Samuel Bushee, first owner of The Marshall House. Samuel Bushee predeceased her at the age of 86 on 9 Jun 1840.
Susanna Marshall (1764) – more research is needed. She may have married a John Greeley (1759) of Nottingham, NH according to a Greeley Genealogy text. But if she went by the name Hannah, she may have married a David Ackerman.
James Marshall (1768) married Hannah Clements (1776) in the year 1791. Their numerous children include: Elizabeth (1794), Susannah (1796), Polly Bushee Marshall (14 Mar 1798), Sarah (26 Jan 1800), Nancy Marshall (1802), James (1804-1805), Ruth (1806), Cornelia Ann (1808), Phebe Marshall (1811), Samuel J. (1813), Laura (1815), William H. Marshall (1818).
James died 01 Oct 1849, buried in the North Broad Cemetery, alongside his wife, Hannah Clements Marshall who died 03 Jun 1858. The youngest son, William H. Marshall (1818-1901) served in the Civil War enlisting in Saratoga Springs, NY in Sept 1862.
Samuel Marshall, (1779) the youngest son of Abraham Marshall moved with his family to Samuel Bushee's farmhouse The Marshall House in 1817.
It is stated that he purchased the property in partnership with his son, Abraham Marshall, who would have been age 19 at the time. The purchase provided that his brother-in-law, Samuel Bushee and his wife, Mary Marshall Bushee would continue to reside there throughout their remaining life.
Samuel Marshall married Phoebe Benjamin (1780) daughter of Patriot William Benjamin and Abigail Fitch (descendant of the Rev. James Fitch of Connecticut) on 01 Jan 1798 by the Rev. Samuel Smith according to the records of the Saratoga Dutch Reformed Church.
Their children include: Abraham Marshall, Esq. (1798), Thomas Jordan Marshall ((1800), Ann Marshall (1801), Nancy Marshall (1804), Catherine Marshall (1806), Philip Duryea Marshall (1811) and William Benjamin Marshall (1813).
The Reverend Philip Duryea, Pastor of the Dutch Reform Church, is the person for whom Philip D. Marshall is named, the family having a close affiliation and membership with the Church. Samuel Marshall served as a Deacon in the Dutch Reform Church.
Samuel, like his Marshall siblings, was a farmer in Old Saratoga living in The Marshall House from 1817 until his death 30 Jan 1866. He is buried in the Marshall Cemetery alongside his wife, Phoebe Benjamin Marshall who died 22 April 1864. Phoebe's brother William Benjamin, Jr. (1776-1759) is buried next to her in the Marshall Family Cemetery and lived with them in his later years.
Samuel and Phoebe Marshall's children
Abraham Marshall (1798-1879) appears to have been a prominent citizen, living in the Town of Northumberland, making his living as a farmer. He married Eliza Ann Mulford (1807-1841).
They had many children including: Antoinette J. Marshall ((1825-1910), Mulford Marshall (1828-1872), Addison Marshall (1830), John Marshall (1832-1918), and Catherine "Kate" Marshall (1836-1899).
Abraham served as an elected Justice of the Peace in Saratoga County 1834, 1848, 1855, 1859, 1864, 1866-69. He was an active member in the Reformed Church of Northumberland serving as Deacon and Church Officer.
Abraham Marshall also served as Clerk and Treasurer of the Church for more than 25 years. He served many years as Secretary for a Bible Society formed in 1821. Abraham was a Freemason serving as Secretary in 1877.
Thomas J. Marshall (1800-1871) married Harriet Atkins(1805-1839) of Phillipston, MA, and had three sons: Philip E. Marshall (1831), Francis Kendall Marshall (1833), and Harrison Marshall (1836).
Thomas J, like his father Samuel, served as an Elder in the Dutch Reformed Church of Saratoga. Thomas J. and Harriet are buried in The Marshall Cemetery with a prominent obelisk for a headstone. His second wife, Sarah Keyes (1814-1870) is buried there as well.
Philip Duryea Marshall (1811-1870) married Salinda Whipple Patrick (1814), daughter of Salinda Whipple and Dr. William Patrick of Stillwater, NY. Miss Salinda Whipple Patrick was the granddaughter of Patriot Captain Ezra Whipple of Bennington, VT.
Philip Marshall and Salinda married in the home of Samuel Marshall (The Marshall House) 14 June 1832 by the Rev. H.M. Boyd of the Dutch Reformed Church of Saratoga. Philip obtained a U.S. Seamen's Protection Certificate in 1830 at age 19, and may have worked with his wife's uncle, Capt. Barnum Whipple along the Hudson River.
Philip and Salinda Marshall had the following children: Adrian Jackson Marshall (1833-1902); Helen Marshall (1836-1919); Mary Ana Marshall (1840-1921) and Jennie Marshall (1844-1908). In the 1840's Philip and Salinda Marshall migrated West in a cart pulled by oxen. He is found in the 1850 Census in Wausau, Wisconsin Territory as a farmer.
In the 1860 census, Philip is in the Town of Texas, Marathon, Wisconsin. The first settler in this town Martin Hobart sold his land to Philip Marshall "whose land was located at the crest of a hill" bearing his name "Marshall Hill." According to land records, Philip's farmland was sold in 1865.
From there, the Marshalls continued on to Colorado territory, where they settled as pioneers. His son, Adrian Jackson Marshall (1833), is buried in Hayden Pioneer Cemetery in Routt County, Colorado, Yampa Valley near Steamboat Springs.
According to Adrian Marshall's daughter, Gertrude Marshall: "The Adrian Marshall family were among the pioneers who were driven from their homes at the time of the Meeker Massacre uprising 1879."
Philip's daughter, Mary Ana Marshall married Jacob Calvin Jones, first mayor of Englewood, Colorado. Salinda W. Marshall, Philip's wife is buried in the Littleton Cemetery, Arapahoe, Colorado, alongside her daughter Mary Ana Marshall Jones. It is unknown when or where Philip Marshall died or where he is buried.
William Benjamin Marshall– owner of The Marshall House, was the youngest son of Samuel and Phoebe Benjamin Marshall. Born in Schuylerville 16 Feb 1823, he married Jane Griswold (1822-1910) on 1 May 1848.
Genealogical records show that he had five daughters: Mary Elizabeth (1845-1851); Fannie M. Marshall (1849-1934); Sarah F. (1849); Caroline (1850-1864); and Jennie M. Marshall (1860-1930).
William B. Marshall made his living in agriculture. An 1870 Non-Population census shows 75 sheep, 10 milk cows, 3 cattle as well as horses and swine. He most likely generated his income from the sale of wool. His property, The Marshall House, consisted of over 145 acres of which 135 was farmland.
William B. Marshall came into possession of The Marshall House in January 1866 upon the death of his father, Samuel Marshall. William died a few years later in June 1870 and is buried in the Marshall Cemetery.
Mrs. Jane Marshall as a widow continued to live in the house with her daughters, Jennie and her two children, and for a brief time with Fannie and her children. In the 1875 State census, Mrs. Jane is living with her young daughter, Jennie, age 14 and a few servants.
It was during the 1877 Centennial Celebration of Burgoyne's Surrender that Mrs. Jane Marshall and her daughters entertained 3,000 people on their expansive lawn providing tea and refreshments. In the 1880 Census, Mrs. Jane is living with daughters Jennie, age 19, and Fannie age 31, with Fannie's three stepchildren -Mary C., Jennie L. and William M. Smith.
In the 1900 census, Mrs. Jane is living with daughter Jennie, age 39 and widowed with her children Marion Lenita and Ralph Sample. Jennie's husband, William W. Sample died in 1889 leaving her a widow with two babies. In 1905, Mrs. Jane Marshall, Jennie, the two Sample children Lenita and Ralph are living in the house with 8 boarders.
In the 1910 census, Mrs. Jane is living with daughter Jennie and her son Ralph Sample and a few boarders. Later that year, in May 1910, Mrs. Jane Griswold Marshall dies at age 87 and is buried in the Marshall Family Cemetery.
Upon Mrs. Jane Marshall's death in 1910, The Marshall House transferred ownership to the two surviving daughters: Fannie Marshall Smith and Jennie Marshall Sample Walker.
The last of the Marshall Family living in The Marshall House would have been Fannie and Jennie Marshall, and Jennie's two children, Marion Lenita Sample (1887-1979) and Ralph Sample (1888-1963) who grew up in the house during their childhood.
Jennie died in 1930, at which time The Marshall House ownership transferred to the Bullard Family.
Click for full size pictures