Thomas David Bullard 1930 - 2023
The Board of The Marshall House, Inc. expresses profound regret at the loss of David Bullard, friend and mentor. Condolences are sent to the Marshall and Bullard families.
David Bullard died February 19, 2023 at his home The Marshall House.
David's inspiration led to renewed action and remembrance of the events of America's War of Independence. Many visitors to the house were fortunate to learn from him stories of 250 years of history.
The Marshall family and The Marshall House, Inc. will continue to tell of the important events that occurred in old Saratoga during the Revolutionary War and in the times that followed.
Visitors to this website are invited to view the video narrative about David Bullard and his house. This video was completed a short time ago.
The Bullards' Farm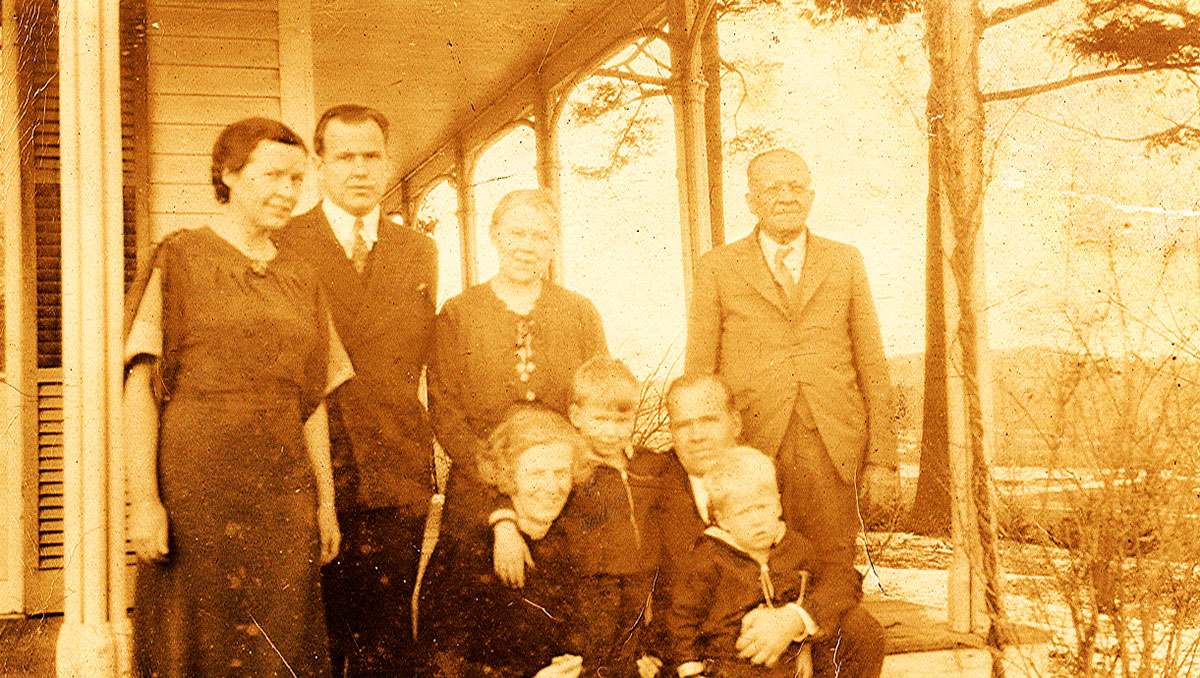 Bullard family, Thanksgiving Day, 1935
The Marshall House has, until recent years, always been a farmhouse. The Bullards were fruit and vegetable growers and dairymen.
In the nineteen thirties Kenneth Bullard, while excavating to build cold frames some thirty yards from The Marshall House, exhumed the bodies of several soldiers. Having been hastily buried in quick lime they quickly disintegrated. Baroness Riedesel records in her Journal that those who died from their wounds were buried nearby in the dark of night.
During World War II, men having been drafted, Mr. Bullard enlisted the aid of Lucy Scribner, then President of Skidmore College in Saratoga Springs, to help recruit college girls to help harvest his crops. Here you will see photographs of them working. Simple dormitories were built to house them and a barn featuring a kitchen and large dining hall was also erected.
Mrs. Bullard supervised the cooking, Mr. Bullard taught the girls to square dance and served as lifeguard when they went down to the river after work to swim. The old Boardman & Grey upright piano in the dining hall that provided their music was presented in later years to the Adirondack Loj Club, near Lake Placid, where it is yet enjoyed.
After the war for two seasons young women, coal Miners' daughters, were brought to the farm from Windber, Pennsylvania. Next he hired black migrants from Florida to work the crops. Members of the same families were with the Bullards, father and son, from 1946 until 1993. Some of their children remained over the winters to attend the local school. They wintered with Schuylerville families.
At one time The Marshall House was the center of a fifteen hundred acre fruit and vegetable farm. With the departure of the canning and freezing industry from New York the vegetable operation ceased and the herd of registered Holstein cows was sold in 1969.
Modernizing the apple orchards was undertaken on one hundred and sixty-seven acres. Importation of apples from abroad and the high cost of labor together with changes in how fruit is marketed doomed the farm. The last crop was harvested in 1993.
Click for full size pictures